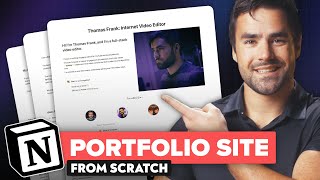 Notion Masterclass: Build a Portfolio Website from Scratch (for free)

Notion just might be the easiest way to create a simple portfolio website – and doing so is free! In this tutorial, I'll show you how to build a great-looking portfolio site in Notion from scratch.

📺 SEE MY FINISHED SITE:

http://thomasfrank.tv

🧠 ULTIMATE BRAIN (Full Second-Brain Template - use ...
Thomas Frank Explains
🎉 120,000 人達成!
  📈 予測:20万人まであと259日(2023年10月13日) 
※本サイトに掲載されているチャンネル情報や動画情報はYouTube公式のAPIを使って取得・表示しています。