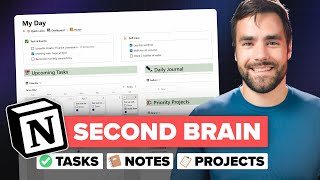 The ULTIMATE Second Brain Setup in Notion

🧠 Get Ultimate Brain for Notion:

https://thomasjfrank.com/brain

- Use UBLAUNCH at checkout to get 50% off!

In this video, I'll show you my complete Notion system for life organization and productivity. This handles note, web clips & highlights, tasks, projects, goals, and much more.

🐦CONNEC...
Thomas Frank Explains
【予測】9万人まであと19日(2022年10月20日)
チャンネル登録
RSS
Notion tutorials and other deep dives into productivity tools with Thomas Frank.