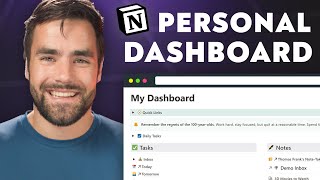 Notion Masterclass: Build a Personal Dashboard from Scratch

In this video you will learn how to make your own personal dashboard in Notion from scratch.

This video can be used as a standalone tutorial, but it's also part of Notion Fundamentals, my free beginner's series that teaches all the basics of Notion.

🏠 NOTION FUNDAMENTALS HOME PAGE:

https://thom...
Thomas Frank Explains
【予測】9万人まであと19日(2022年10月20日)
チャンネル登録
RSS
Notion tutorials and other deep dives into productivity tools with Thomas Frank.