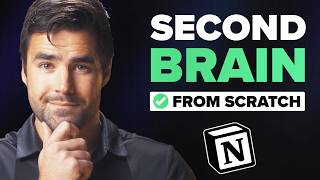 Notion Second Brain: How to Build a Life Organization Dashboard

The PARA Method from Tiago Forte's "Building a Second Brain" course is my favorite way to build a whole-life organization system. Here's how to build PARA into Notion from scratch.

🧠 ULTIMATE BRAIN (Full Second-Brain Template - use LETSGO2023 at checkout):

https://thomasjfrank.com/brai...
Thomas Frank Explains
🎉 140,000 人達成!
  📈 予測:20万人まであと207日(2023年10月17日) 
※本サイトに掲載されているチャンネル情報や動画情報はYouTube公式のAPIを使って取得・表示しています。