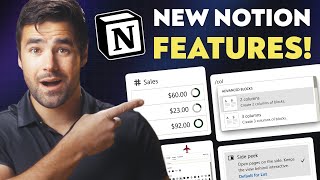 10 New Notion Features You Need to Know About!

Notion has released a ton of new features recently. In this video, I'll show you all of them - including the new Side Peek mode, default database templates, icon updates, and more.

📚 NOTION FUNDAMENTALS (Free & Complete Notion Beginner's Course)

https://thomasjfrank.com/fundamentals/

🧠 ULTI...
Thomas Frank Explains
🎉 160,000 人達成!
  📈 予測:20万人まであと80日(2023年8月21日) 
※本サイトに掲載されているチャンネル情報や動画情報はYouTube公式のAPIを使って取得・表示しています。